Norwegian Epic Nightlife

Norwegian Epic features many never-before-at-sea public spaces on board, which result in this ship redefining what nightlife at sea is. From Riviera chic and Ibiza style to Miami trendy and Vegas flair, the night clubs aboard Norwegian Epic are fabulous! There are 15 bars and lounges on board Norwegian Epic. Feel free to browse the information and pictures below to learn all about them:
Bliss Ultra Lounge Nightclub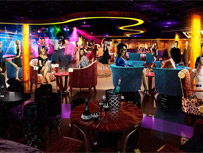 Back by popular demand...

NCL takes its popular Bliss Ultra Lounge and Nightclub, featured on Norwegian Gem and Norwegian Pearl, to Norwegian Epic. Bliss features NCL's signature bowling alley at sea as part of this all-day entertainment and nightclub complex with the feel of a decadent Las Vegas nightclub. Located on deck seven, this hot spot is perfect for all-day bowling, dancing or just hanging out. In the evening, Bliss transforms into a hip, high-energy ultra lounge with plasma screens displaying music videos, shadow dancers entertaining the crowd and non-stop music. A dance floor, private VIP areas and mood-lit bowling complete this totally unique seagoing experience. Bliss features NCL's popular White Hot Night, the ultimate dance party set in a wonderland of white. Guests are encouraged to wear white to the party and they can purchase specially designed "white hot" shirts and feather boas. Bliss on the Norwegian Epic features the addition of gaming tables with dealers.
Halo, the Über Bar
Heavenly and very exclusive...Garden and Courtyard Villa guests have exclusive VIP access to this Über Bar located at the top of the ship on the private deck 16.

This Über Bar showcases the best of the best, from the best liquors around the world to the best art featured and available for purchase with jewelry-clad servers displaying the best jewelry onboard for purchase. LED screens, framed like masterpieces and placed strategically around the room, set the mood with video montages showing the best artwork, music videos, films, iconic images of celebrities, places, fashion and more. Private gaming tables, including baccarat and blackjack, add to the sexy style in this adult-only club.
Svedka Ice Bar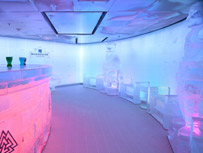 Chill out and chat up...

Inspired by the original ice bars and ice hotels in Scandinavia and one of only 14 ice bars in the world, the cruise industry's first true ice bar is the ultimate chill. This frozen chamber of iced vodka is set in changing hues of blue, green and purple LED lighting that simulates the Northern Lights and creates a distinctive arctic atmosphere. The centerpiece is a giant ice cube that glows and changes colors as the hottest techno beats add to the energy of this unique nightlife attraction. In addition, Norwegian Epic's Ice Bar features a bar, walls, tables, stools, glasses and life-size sculptures all made from ice. Located on deck seven, Ice Bar will accommodate 25 guests who will be given fur coats, gloves and hats to keep them warm, since the room's temperature will not rise above 17 degrees Fahrenheit - creating the ultimate chill. To enter, guests will pay a cover charge with a drink or drinks included.
POSH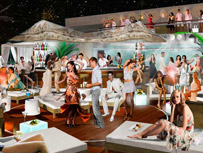 POSH is a "members only" luxury club on board Norwegian Epic, open day and night.

Adult guests who purchase a POSH pass for the day or the week will take a private glass elevator to enter this luxurious and exclusive outdoor entertainment complex styled with Mediterranean flare and combined with the sizzle of South Beach and the Riviera. During the day, guests can lounge on white-cushioned day beds and in private cabanas in a sun-kissed setting and cool off in the 35-foot long cascading waterfall while the POSH VIP Host and crew cater to every whim. At night,
things heat up as POSH Beach Club becomes an open air night club, complete with VIP bottle service, while the DJ sets the vibe for the non-stop party. Four POSH experiences a day are delivered:

Early Morning (6 to 9 am) - POSH Vive
Guests awake to yoga classes and body-and-soul treatments in private cabanas as the sun rises and the day starts anew.

Morning (9 am to Noon) - POSH Rehab
Guests can relax and recover from a night out with Salty Dogs, Bloody Mary's, and mimosas combined with chill out tunes.

Afternoon (Noon to 6 pm) - POSH Sol
The best nightlife in the daytime with guests lounging on day beds, enjoying funky beach music and spiked POSH snow cones while chilling under a lit waterfall.

Evening (8 pm to whenever) - Pure POSH
A pure, sizzling, sexy, nightlife experience where guests enjoy sparkling drinks and bottle service served on silver trays. Look out Vegas, the vibe here is hot... guests can dance all night under the stars or lounge on a POSH bed... truly Riviera style.
Spice H2O
What an aft-pool never dared to be!

Infused with Latin and Asian influences, colors and vibes, this adults-only complex located at the back of Norwegian Epic, on decks 15 and 16, features a huge LED screen displaying vibrant video images from charging bulls to flamenco dancers, and synchronized swimmers to tap dancing Geishas all combined with dynamic music to create a truly unique and sensory experience. During the day, guests can soak up the sun in lounge beds around the pool while enjoying chill-out Asian tunes and Asian-inspired cuisine in Chinese to-go containers. As the sun sets, Spice H20 is transformed to an Ibiza-inspired beach club with live entertainment and dinner served tableside or directly on beds. At night, the mood is red-hot with Latin mash-up vibes, dancing and unique entertainment atop the covered pool.

Spice H20 will serve up four spicy vibes per day:

Morning (8 to 11 am) - Sunny Spice
Spicy Bloody Mary's and Spicitinis combine with breakfast and relaxing tunes.

Afternoon (11 am to 4 pm) - Aqua Spice

Guests enjoy the energy of the in-crowd as they sun the day away with Asian margaritas, bottle service and beers from around the world. Asian-inspired food is served in Chinese to-go containers.

Late afternoon/early evening (4 to 9 pm) - Sunset Spice
A perfect sunset every day - either live or via the big screen. Live entertainment, flowing champagne and an eclectic menu that isn't available anywhere else on the ship. As the sun sets, it becomes a more intimate environment with Spanish guitars and red-hot dancers setting the vibe.

Evening (9 pm to whenever) - All Spice
The entertainment is non-stop throughout the evening in this outdoor amphitheater. A visually captivating aerial ballet video comes to life as the pool floor rises and aerial performers mix dance moves with acrobatic choreography inside a metallic sphere to create a mesmerizing experience. Then guests can dance the night away on the covered pool.